10 restaurants not to miss in 2021
Nosara is known for its lovely beaches and relaxed lifestyle, but did you know you can also find anything you want to satisfy your buds? From Costa Rican traditional food to international delicacies, Nosara offers a wide variety of flavors. Here's our top 10 choice not to miss in 2021!
Remember that due to Covid restrictions opening times may vary.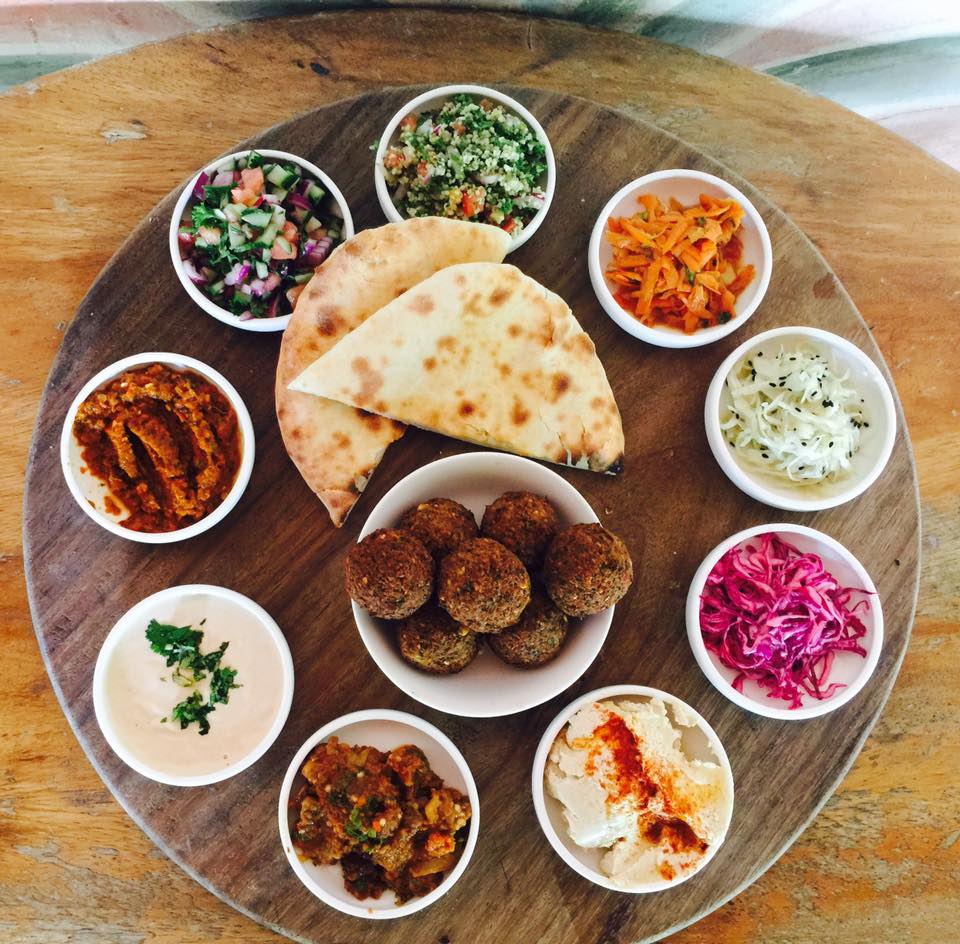 La luna
$$$
Where? Playa Pelada
Why? Imagine yourself right in front of the beach, watching the sunset while enjoying a passion fruit mojito, well, La Luna is the place for that. The ambiance of this restaurant is only matched by its delicious mediterranean-style food, served in generous portions. The bar inside is equally appealing and they have amazing cocktails with a mix of tropical flavours. They offer breakfast, lunch and dinner, but don't forget to make a reservation for the night because La Luna is trendy. And for the perfect ending, try their tempting desserts.
What to order? Grilled kebabs with mediterranean sides, brick oven pizza, red snapper, cocktails.
When? 7am to 10pm
Contact
(+506) 2682 0122
www.facebook.com/LA-LUNA-187210908478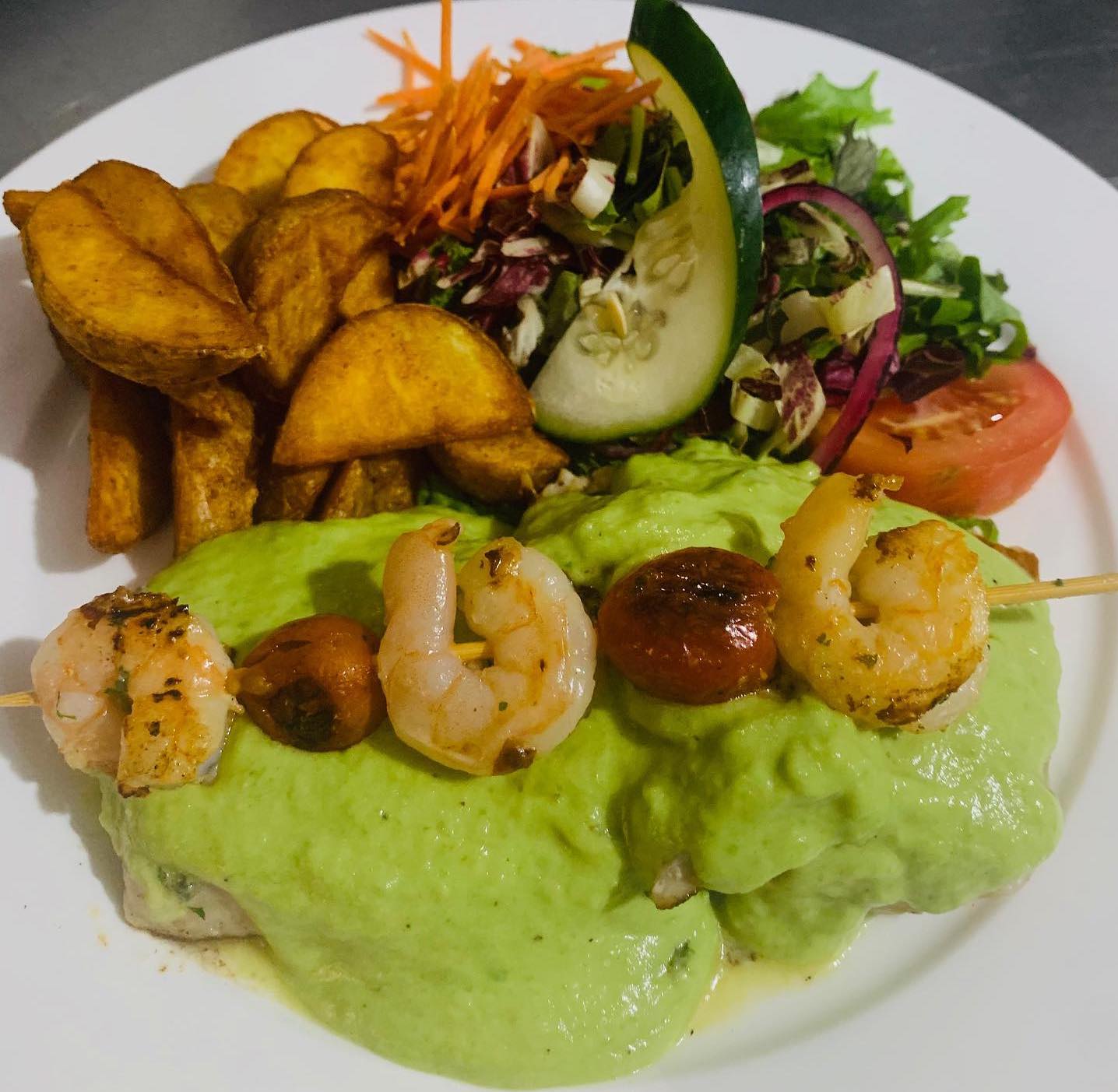 Pacífico Azul
$$$
Where? North Guiones, in front of Skate Park.
Why? If you love fresh fish and seafood, then Pacifico Azul is a must. One of the advantages of being in front of the ocean is that you always have access to fresh fish caught by local fishermen. The restaurant has a nice ambience and an open air garden with hanging string lights. The food is amazing and fresh, the prices reasonable and the staff is attentive.
What to order? Ceviche, mahi mahi with avocado sauce, grilled octopus, chocolate brownie with coconut ice cream.
When? 12pm to 10pm
Contact: (+506) 2201 8984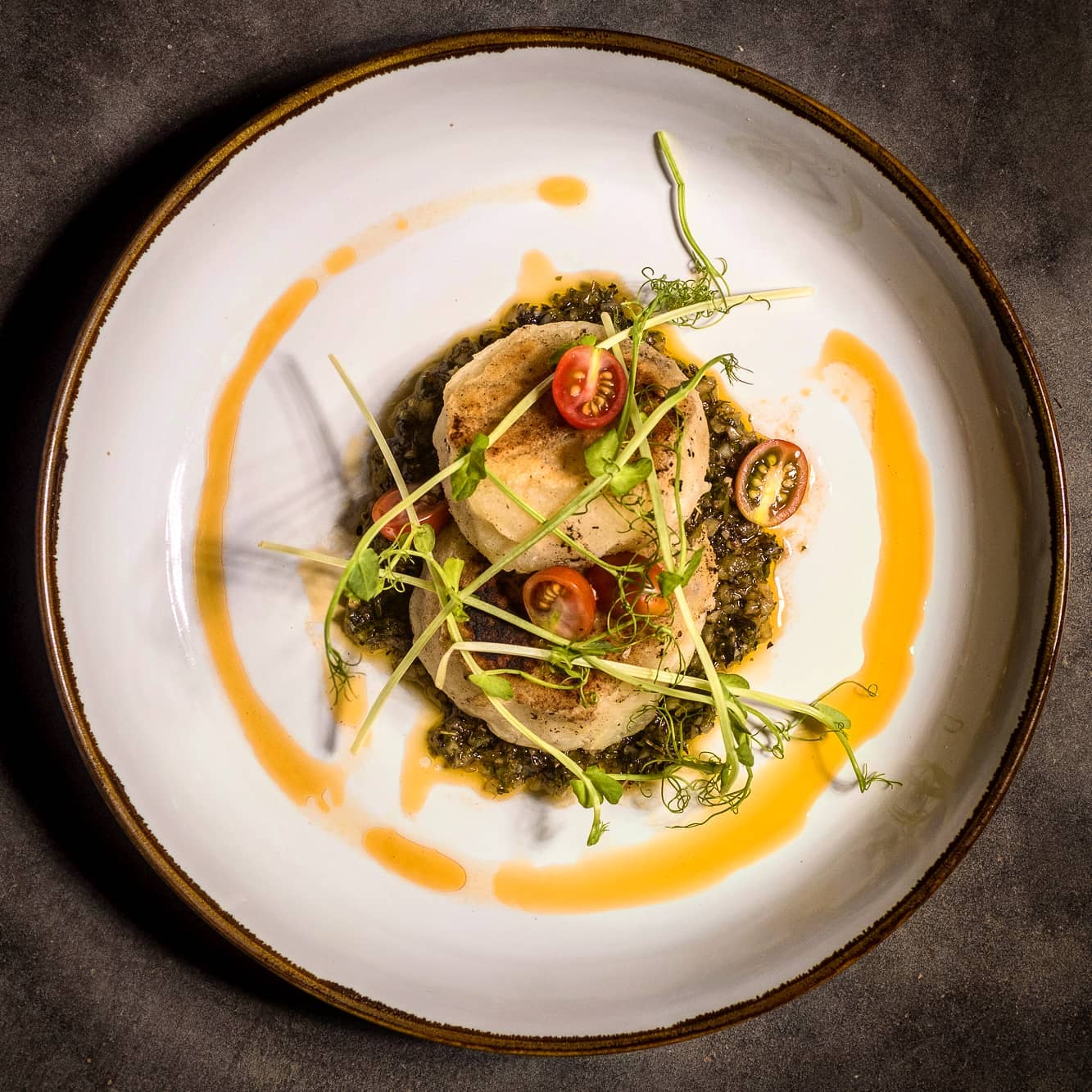 Costa Nosara
$$$
Where?Downtown Guiones.
Why? Costa Nosara is the perfect place for a classy dinner, the space is elegant but laid back, the presentation of the food and drinks is superb, and of course, delicious. Their focus is on sea food and vegetables, so plenty there's of options for vegetarians and vegans. Also, they use local ingredients that you may not find in other restaurants in the area, such as pejibayes or blue corn, and have a good selection of wines and other drinks.
What to order?
When? 5pm to 9pm
Contact: (+506) 8729 4899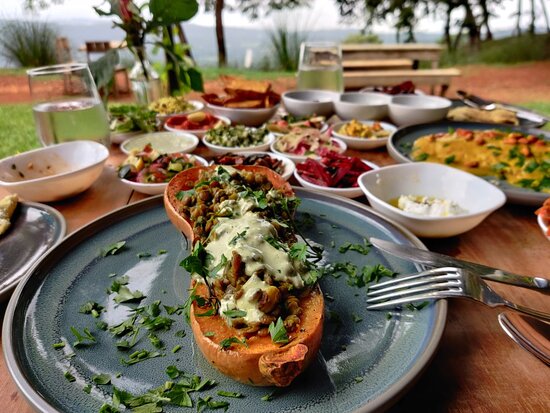 Coyol
$$$
Where? Coyol Mar Azul.
Why? A hidden gem in the middle of the mountain, in Coyol you can eat with the most breathtaking views of the ocean and nature surrounding you. Specially for sunset, but be sure to reserve before going. The food is appetizing with many vegetarian options, and you can ask for their selection of wines.
What to order? .
When? 12:30 – 10:00 pm. Mondays closed.
Contact: (+506) 8632 9590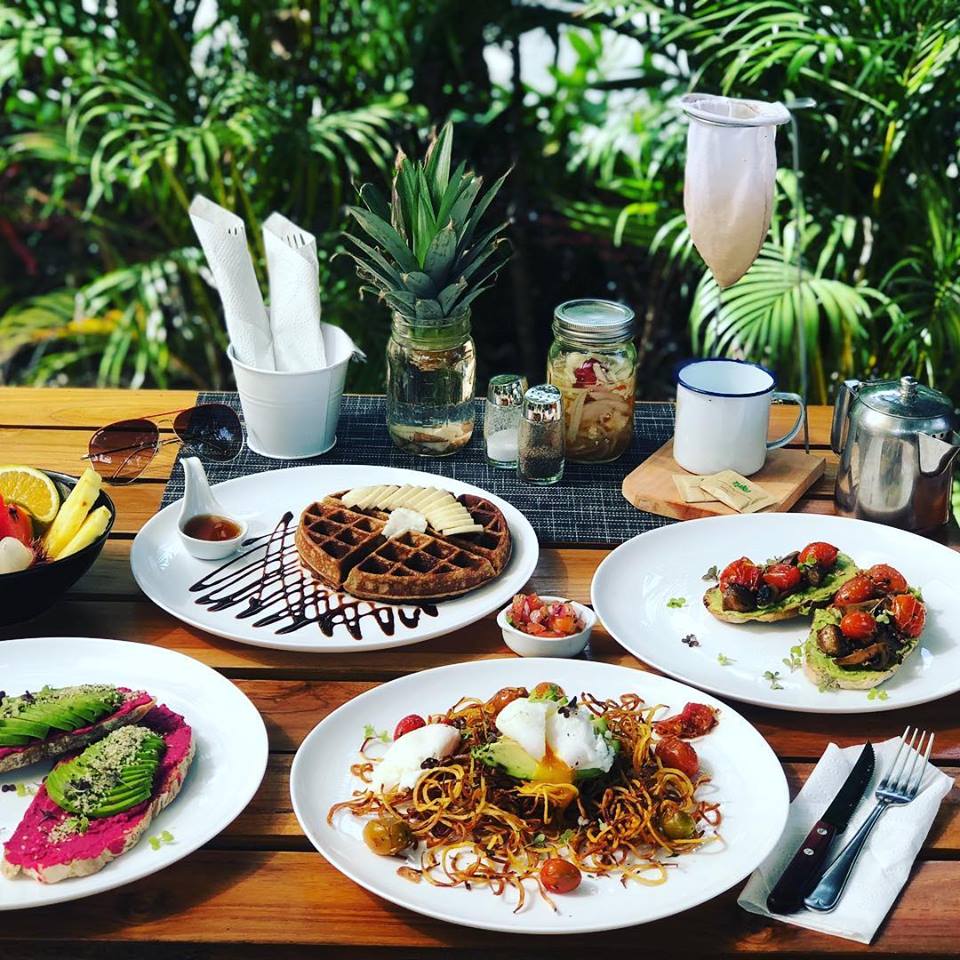 Destiny
$$$
Where?North Guiones.
Why? If you want your food to look as amazing as it tastes, then you have to try Destiny. And they're also very creative in combining ingredients and flavours. Destiny is opened for breakfast, lunch and dinner, and it starts early in the morning so you can get your cup of coffee before surfing. It is located in the Hotel La Negra, steps from the Guiones beach.
What to order? Tuna poke, breakfast burrito, kale caesar salad, cloud coffee.
When? 6:30am - 2pm / 4:00pm - 9:00pm. Monday and Sunday only opened 6:30am - 2pm.
Contact: (+506) 2101 4350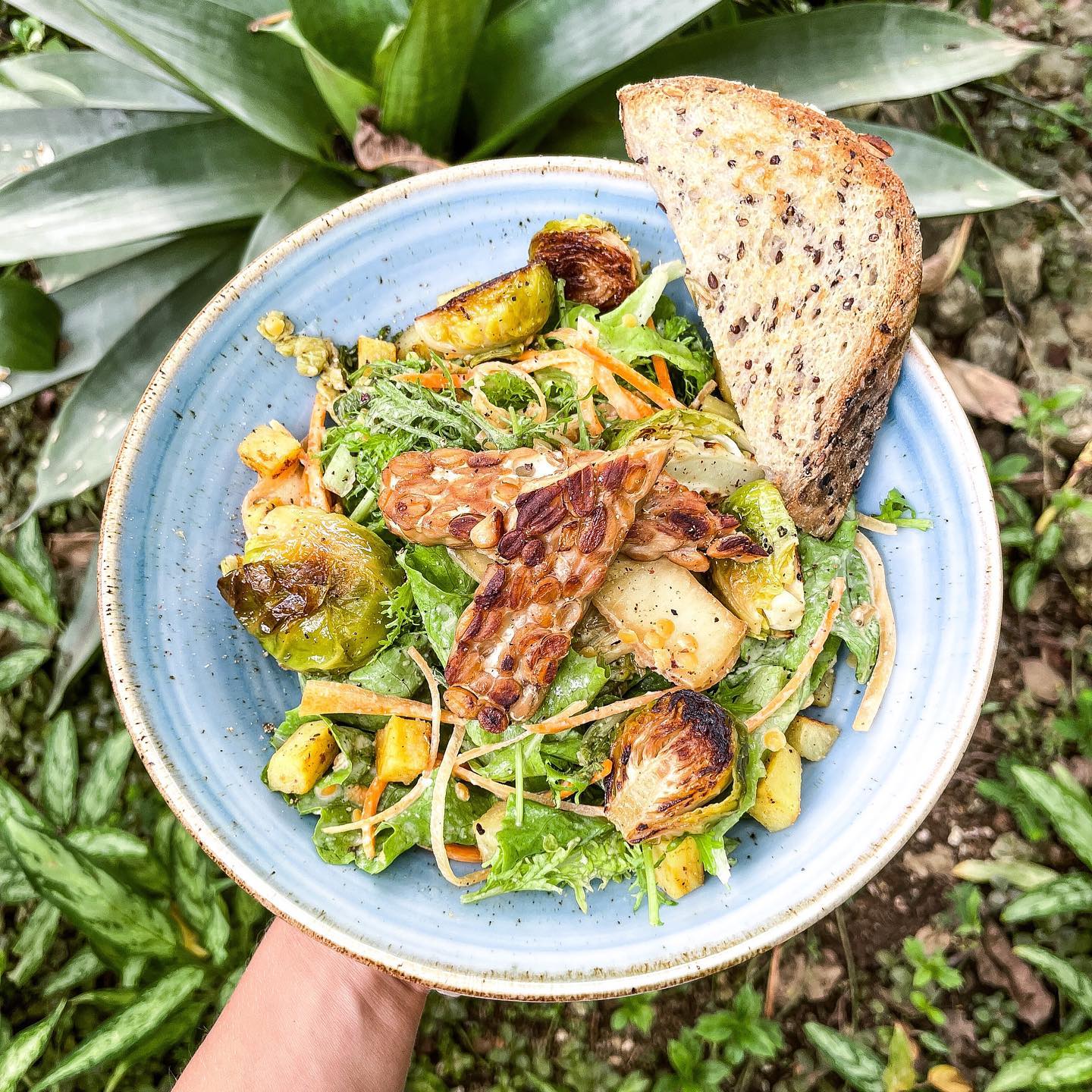 Café de París
$$
Where? Downton Guiones
Why? Café de París is the perfect restaurant for a relaxing meal. You can have a smoothie in the comfortable lounge in front of a swimming pool, great for the hot summer days. If you come with your family or friends, there's a minigolf and a basketball court that you can enjoy after eating. They have a breakfast and lunch menu with vegetarian and vegan options. There's a bakery too, so you can find fresh bread and pastries all day long.
What to order? Freshly baked baguette, chocolate croissant, sandwiches, salads.
When? 7am to 5pm
Contact: (+506) 2682 1036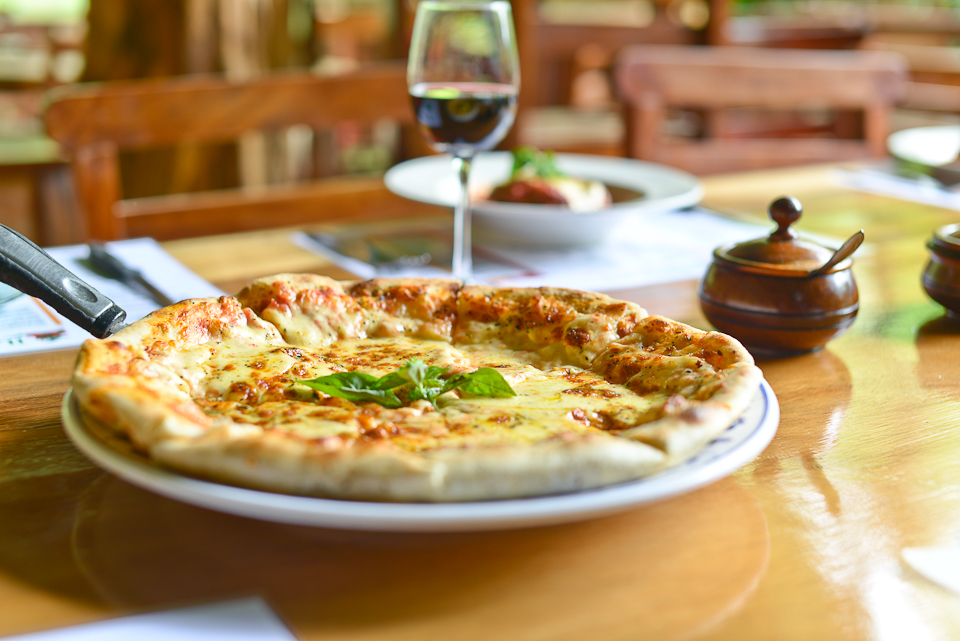 Il Basilico
$$
Delivery
Where? Esperanza
Why? One of the oldest restaurants in the area, there's a reason why Il Basilico's been around for so long. Their speciality is pizza and pasta, with freshly made gnocchis and homemade sauces. You can ask for gluten free pizza too. Also, they offer salads, meat, fish, seafood and desserts. The staff is always friendly and some nights they have live music. The place is in high demand for dinner, especially during Saturdays when they have $10 pizzas and live music, so be sure to make a reservation.
What to order? Pizza, shrimp and avocado salad, focaccia, seafood pasta.
When? 11:30am to 10pm
Contact:
(+506) 2682 1472
www.ilbasiliconosara.com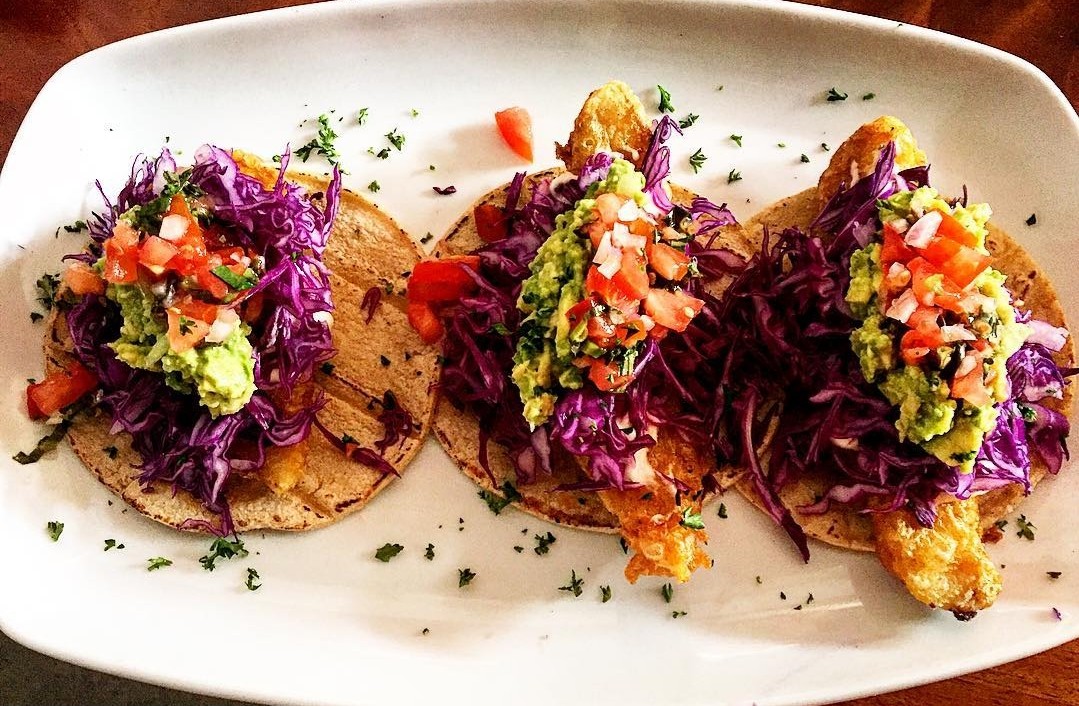 10 pies
$$
Where? North Guiones
Why? 10pies is one of the most popular restaurants in the area for visitors and locals alike. It is located in North Guiones, the most hip area in Nosara with a lot of nightlife. The place has nice laid back style with wooden furnishing and ceiling fans, you can enjoy your meal in one of their swing chairs. The menu has options for vegetarians, meat eaters and seafood lovers, and they offer a good variety of local and craft beers.
What to order? Hawaiian tuna poke, fish tacos, brick oven pizza, craft beers.
When? 12pm to 9pm
Contact:
(+506) 2573 3236
www.facebook.com/10Pies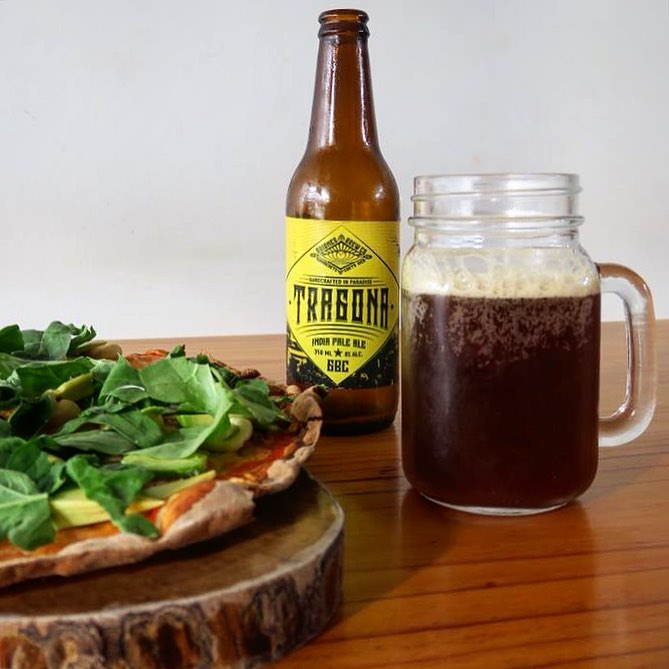 Guiones Brew Co & Olivia's
$$
Delivery
Where? North Guiones
Why? Located in the most hip area of Guiones, Olivia's serves incredibly good pizzas in a laid back atmosphere. They have high quality ingredients, traditional and gluten free options, and the best thin crust pizza. And they make their own craft beer called Tragona, which is a must if you visit, perfect for refreshing yourself in the hot tropical weather.
What to order? Craft beer, Lady Blue, Lourdes.
When? 4:00pm - 10pm. Closed Sunday.
Contact:
(+506) 8848 0135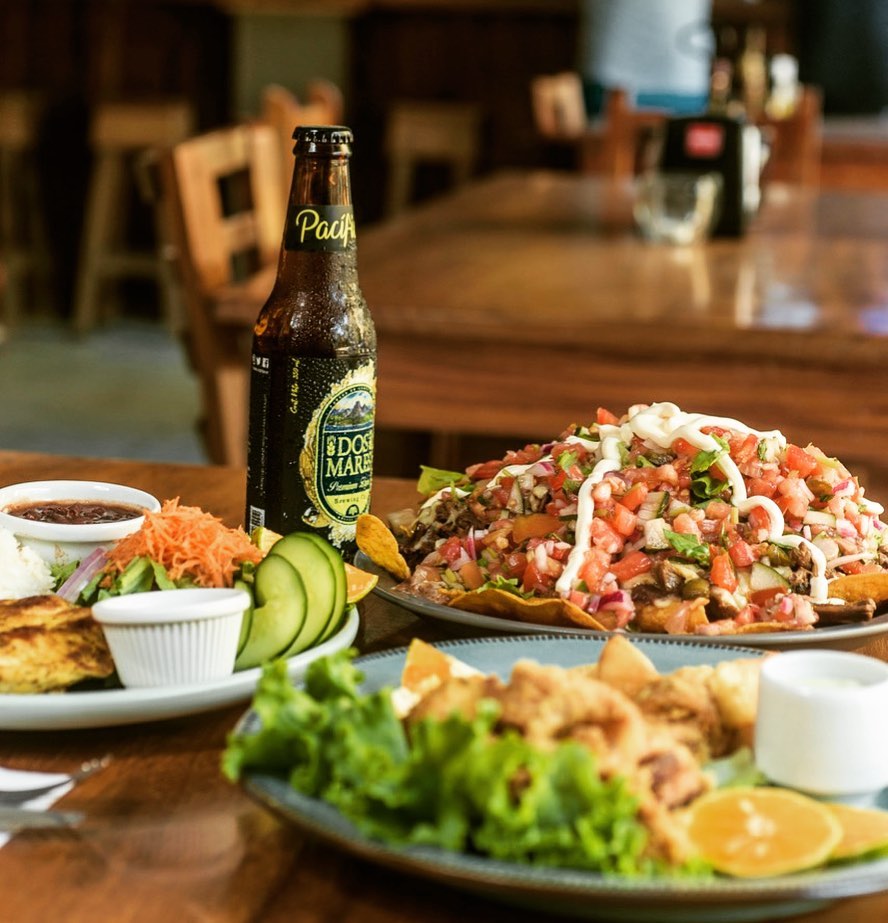 Almendros Cantina
$
Delivery
Where? Esperanza.
Why? If what you're looking for is an actual Costa Rican experience, you have to try Almendros Cantina. You'll find the typical food that locals eat with a good presentation, delicious taste, in a nice and relaxed ambience. It used to be a local Cantina (a town bar), but got recently renovated and improved. The staff is attentive and pura vida, and the prices are affordable. As the locals say "bueno, bonito y barato".
What to order? Chifrijo, Big nachos, try the special Olla de carne available only on Sundays.
When? 12pm to 10pm
Contact: (+506) 4700 3937
☞Do you think we missed something? What are your choices for best restaurant here in Nosara?