PROJECT INFORMATION AND FUNDRAISING PACKAGE
About Us – NOSARA SKATE
Nosara Skate is a group of skateboarders, surfers and skaters, community leaders and parents who are driven by a mission to improve the recreational offerings of Nosara through the development of a safe and inviting modern concrete skatepark for all ability levels and backgrounds of children, youth and the young at heart.
Why a New Skatepark in Nosara?
Our skateboarding/surf community has mourned the loss of Nosara's only skatepark (which was not reflective of modern design and construction standards) and have been working diligently to bring a modern facility to our community. Not having a suitable facility forces a large population of our children, youth and adults who desire to participate in these activities have little to no options within the community and seek unsanctioned and often dangerous terrain in public spaces throughout the community or travel to other long distances to the very few communities in the area who have chosen to create modern skateparks. Learning from our communities from around the world, we know that skateparks allow families with children, youth, adults and tourists that participate in skateboarding, scooter riding and inline skating to feel valued, appreciated and more connected to their communities. This ultimately leads to healthier families who remain invested in Nosara. Additionally, Nosara Skate is looking to develop and integrate up to 5 1/2 Basketball courts and skate spots in Las Delicias. Garza, Esperanza, Santa Marta, Nosara Colegio. We also plan to include free transportation Saturdays and Sundays from these all 5 communities with skatespots to the Nosara Skatepark for leisure and programming.
BENEFITS TO OUR COMMUNITY
Community Consultation and Concept Design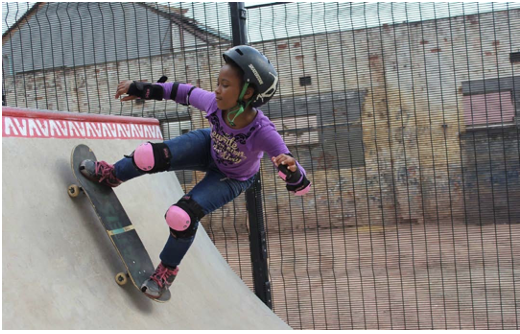 Benefits of unstructured play – In a time when pulling children, youth and adults away from screens and getting them active in their communities has never been more important, public skateparks offer an exciting case study for unstructured physical activity with benefits that reach far beyond the activity itself. In recent years, the benefits of unstructured play have become better understood and the result has been notable changes to the physical environment around us. Skateparks are intentionally designed to provide adequate opportunities and challenges for its users to explore through self directed, creative and exploratory means. This form of physical activity not only raises heart rates, builds muscle memory, and improves physical literacy but also improves cognitive and emotional development. Skills such as complex problem solving, and abstract thinking are fostered while users build resiliency learning to navigate their skateboard, bike, or scooter through the physical terrain. In the book "Spark: the revolutionary science of exercise and the brain," author John  Ratey notes that physical activity also improves learning outcomes for students by prepping and expanding neuro-pathways, reducing stress and anxiety by increasing dopamine and serotonin and building brain resources capable of dealing with external stressors. When thoughtfully implemented, intentional program development at your local skatepark can expand on the educational, social and physical benefits of action sports and provide pathways for youth to engage and learn from positive role models.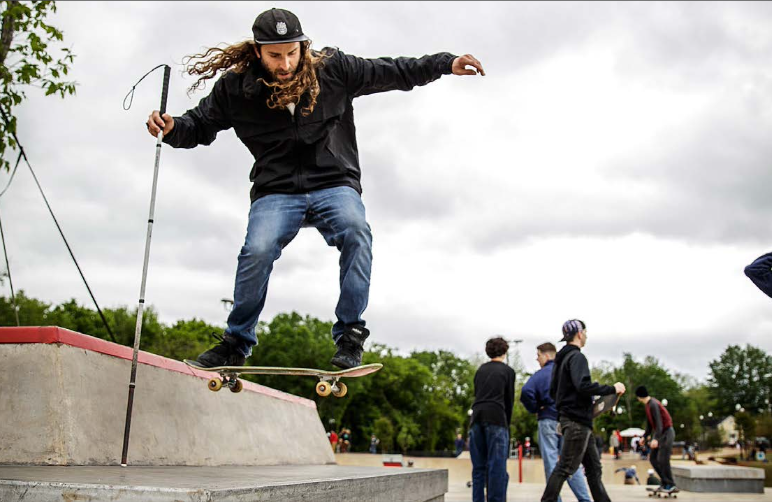 Accessibility / Low Barriers to Participation – Action sports remain a highly accessible activity for youth and adults without the means or desire to participate in more traditional organized sport. As the equipment to get started has remained affordable, there is no registration, manual or coach, the skatepark has become a place for youth to learn and develop in an environment that is very much self-directed and supported by peers. When planned and designed to be integrated with the adjacent environment, skateparks promote movement and flow within the community itself. As the skatepark footprint often ties into nearby pathways, sidewalks, bus routes and trails, the result is that many members of the user group, walk, ride and skate to the park reducing localized traffic and encouraging alternative forms of transport. With a rise in awareness around the needs and desires for individuals with disabilities, skateparks have had the opportunity to be on the forefront of going beyond mandated Disabilities legislation and consider what full participation in Action Sports looks like. This includes designing adequate access points, integration of assistive technologies and implementation of the desired terrain elements for Wheel Chair Motocross riders, individuals with low or impaired vision as well as, aid assisted riders.
Inclusivity – Skateboarding and other action sports are activities that transcend age, gender, ethnicity, and economic backgrounds. Skateboarders both young and old, are being introduced to the activity as studies show a sharp increase in participation in youth under the age of 9, and new skaters over the age of 30. This multigenerational participation adds to the unique nature of the skatepark environment. A historically male pastime, Woman have also altered the landscape of action sports over the last several years. Skateboarding pioneers like Peggy Oki, Elissa Steamer, Cara-Beth Burnside, Mimi Knoop paved a path for today where over 30% of participants are now female and there are more professional Woman represented by skateboarding's biggest brands than any other time in history.
While gender issues have always been present Ian Borden notes in his essay, Skateboarding and the city: A complete history, "increasingly, girls and female skaters are being welcomed and treated as equals within skateparks". This is largely thanks to non-profits around the world who have taken it upon themselves to organize and create safe space for girls and Woman to get into the sport. Simultaneously, members of the LGBTQ+ community have mirrored this movement and have fostered inclusive clubs for queer skaters and allies to promote inclusion among the larger action sport community. "Vancouver Queer Skate", San Francisco's "Unity Skateboard's and the skate publication "Skateism" are working to ensure that not only are there safe space's for Lesbian, Gay, Non-Binary and transgender skaters to participate but that they have a voice and are celebrated on par with their heterosexual peers. Indigenous groups like Vancouver based "Nations" are actively using skateboarding as a means of sharing cultural teachings along with personal stories of survival, hope and resilience. Their workshops, that often take part in public skateparks, introduce children and youth to the sport while providing mentorship from professional level Indigenous role models.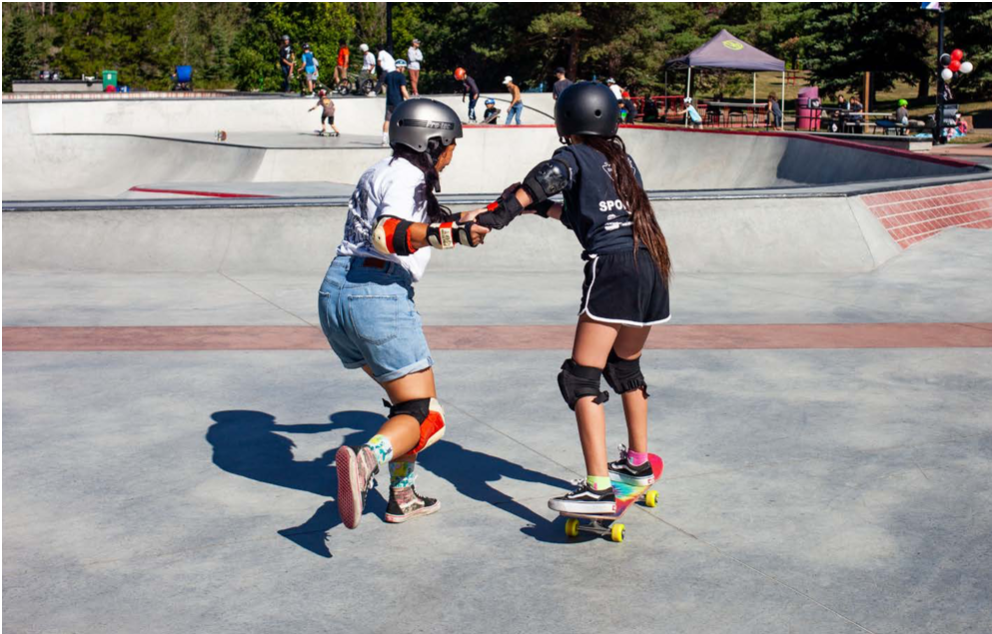 Programming and Organized Sport Opportunities – With 50 million + skateboarders worldwide and the sports upcoming debut as a full medal sport in the 2021 Olympics, demand for public facilities able to house and facilitate the needs of action sports athletes has never been higher. However, progression of participants and sanctioned space for users to hone their craft are just some of the benefits that fully integrated modern skateparks have to offer. With the recognition of the action sports on international levels as well as, evolving educational pedagogy, skateparks have become an ideal environment to mentor, teach, train, and learn. The internationally renowned NGO Skateistan has built a platform for using skateboarding and skateparks to promote education amongst vulnerable populations in Afghanistan, South Africa, Cambodia and Beyond. Calgary based, Hull Services as implemented Skateboard programming in their educational setting as a form of treatment for childhood trauma.
In 2013, North America saw the creation of Skate Class – a school-based skateboarding program that is the first of its kind in Country with its own locally approved curriculum. From city appointed skatepark ambassadors, partnerships with local youth organizations, equipment lending programs, or school run classes, skateparks present countless options to thoughtfully program and engage youth in alternative forms of learning.
Economic Benefits
The vision for the new Nosara Skatepark is to not only become a popular facility for local youth and families, but a marquee recreation destination and key part of the community's sports recreation hub. While specific studies regarding economic impact of skateparks on communities are limited, there is a wealth of anecdotal feedback from municipal administrations and economic development committees (particularly in resort communities like Nosara ) that the skateparks have a marked positive effect on businesses in the surrounding area. In addition to supporting local businesses that supply action sports goods, a properly developed custom public skatepark opens tends to draw visitors from across the region to experience the facility, explore local vendors and restaurants, and often spend multiple days in the community. This is perhaps articulated best by Patti Fergusson, City Administrator "It actually becomes a draw for your community if you have a good skatepark. Skaters want to come and try it. Never underestimate the power of a teenager to sway his or her parents' travel plans!" In the case of Nosara, this means drawing in visitors (and likely high level professionals) from around the globe to retreat, surf and skate.
In addition, the park may also support jobs in programming for the facility if the community would like to explore formalized lessons, and summer dry- land training for surf athletes.
Finally, during the actual development of the new facility it is expected that approximately 1/3 or more of the project construction budget will be spent on local materials and services. This will support businesses in the field of excavation, concrete and aggregate supply, lumber supply, general labour, landscaping, restaurants and lodging among others.
WHAT WE'VE ACCOMPLISHED TO DATE
Over the last 3 years we have come a long way towards realizing our goal of a professionally developed concrete skatepark in Nosara Through ongoing advocacy, planning, fundraising initiatives and cooperation with business leaders in Nosara we have managed to:
Form the Nosara Skate committee (made up of local skateboard / surf enthusiasts and prominent business/land owners)
Obtained support of the project from the general community, business owners and user community Confirmed the site location for the skatepark (generously donated for long term public use)
Researched top skatepark developers and begin working with internationally renowned professional skatepark design-build company with vast experience across the globe (New Line Skateparks)
Work with the community and New Line to help establish the overall project vision and devise a fundraising plan
Begin executing our facility fundraising strategy of grant community-based efforts (ie.Go Fund Me), corporate donation and sponsorship solicitation, and in-kind donation solicitation.
We Need Your Help
Nosara Skate is seeking funding partners to help raise the remaining money required to construct this exciting community facilities. Contributions of cash and in-kind services of any amount are appreciated (see following pages for design and budget info), which will be bolstered by our ongoing grassroots fundraising efforts. Aside from regular maintenance such as landscape upkeep and debris cleanup, which will be provided by ownership, professionally designed and constructed concrete skateparks have proven to be almost maintenance free and can last for decades!
PRELIMINARY CONCEPT PLAN                              
The following preliminary design direction illustrates one of many stylistic approaches and terrain assortments that could be pursued in some form for the new Nosara All Wheel skatepark. Included in this direction, is a selection of world-class street, obstacle, bowl and flow terrain tactfully tied into the surrounding landscape and suitable for all ages and abilities of users. Hardsurface terrain elements are complimented by numerous safe and inviting viewing areas, accessible pathway connections and opportunities for locally inspired skateable/rideable art installations. The park is completed with a multiuse sport / basketball area, climbing wall, and an inviting lounge and viewing area for non-active users.
PARK FEATURE HIGHLIGHTS
A – Flow bowl with Volcano feature and 3 distinct heights
B – Elevated pump zone
C – Kicker to bank / step up to kicker
D – Pump bump and wall
E -A Frame with ledge and rail F – Asymmetrical down ledge G – Down rail and stair set
H – Transition hip and quarter pipes I – Manual pad / ledge combo
J – Long flat bar
K – Intermediate ledge
L – Planter Volcano
M -Viewing area and street gap N – Climbing wall
0 – Basketball / Multi-sport court
PROJECT GOALS AND GUIDING PRINCIPLES
Word-class skateboarding, inline, and scooter terrain suitable for all ages and ability levels
Surf inspired features and flow throughout the park
Dimmed LED light from low post to illuminate the space from 6pm to 10pm
Welcoming to spectators and non-users with safe and inviting viewing areas
Inclusion of compelling 'skateable sculptures/art' referencing Nosara's culture
Developed with wheel-chair accessible routes and strong CPTED (crime prevention through environmental design)
PRELIMINARY PROJECT VISIONING RENDERINGS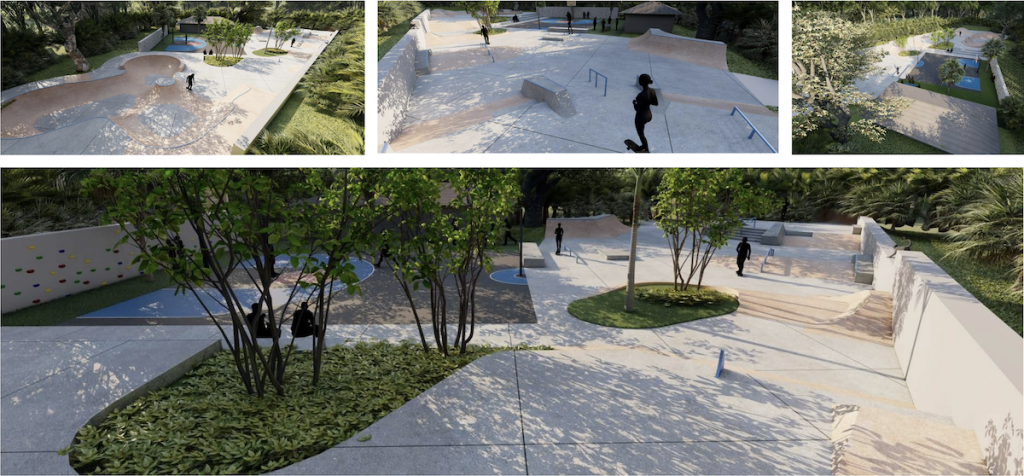 PRECENDENT IMAGES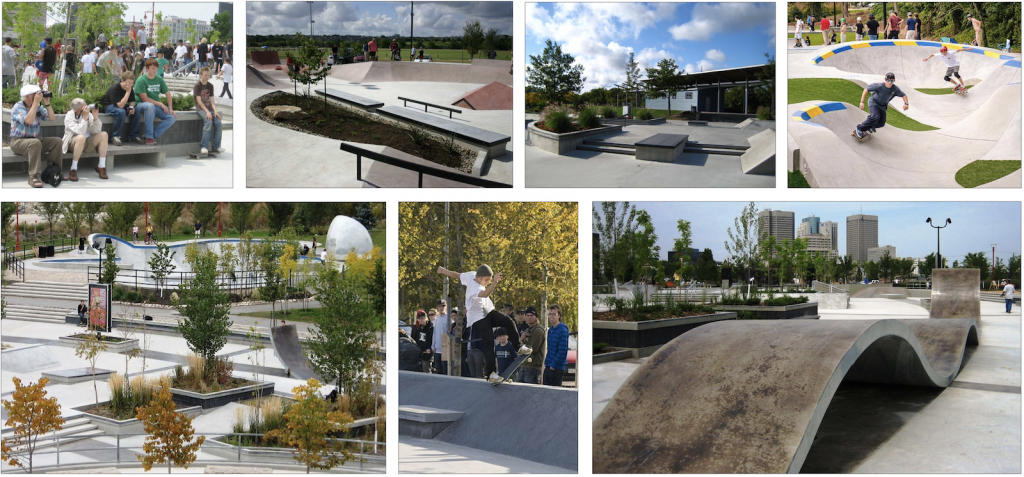 DONOR RECOGNITION EXAMPLES

ESTIMATED INFORMATION PACKAGE AND FUNDRAISING PACKAGE
ESTIMATED BUDGET $600,000
$50,000 – Full design of the Skate Park and building permits
$50,000 – Preparation and compacting of 2000m2 (20,000sft) on the land LOT H27
$50,000 – Construction of half a BasketBall court and concrete Bleachers to sit
$25,000 – Design and construction of a horizontal & 10m2 (100sft) vertical Climbing Wall
$300,000 – Construction of 1200m2 (12,000sft) concrete slab with skate obstacles, bowls and illumination $25,000 – Landscaping, Ping-Pong Table, Slack Line and retaining walls
$100,000 – Construction of 5 mini skateparks in each 5 village, District of Nosara (Delicias, Garza, Esperanza, Santa Marta, Nosara college)
FUNDRAISING METHODS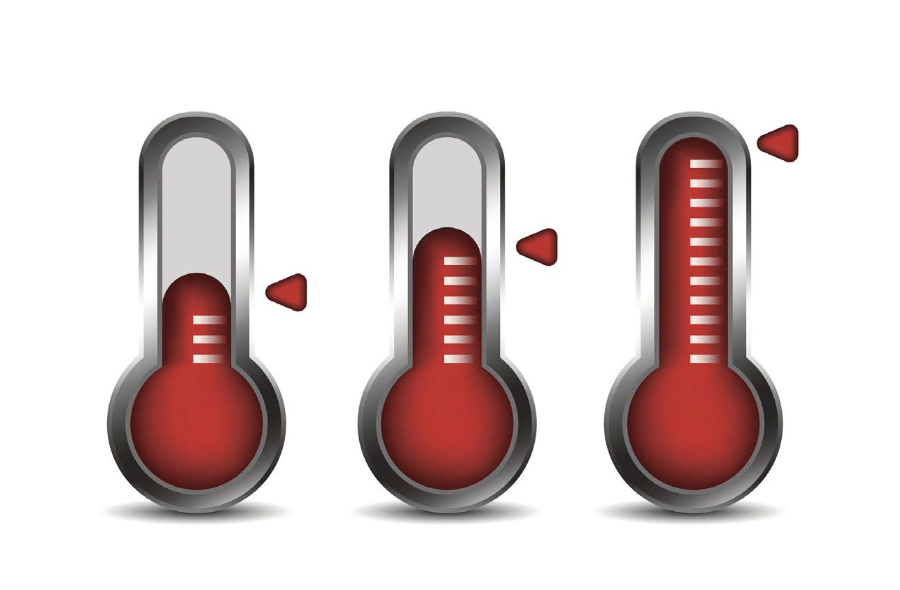 Go Fund MeCampaign: Fundraising Goal – $200,000
To donate, visit https://www.gofundme.com/f/help-skate-nosara-become-a-reality-for-local-kids
Major Donors Fundraising Goal – $10,000 – $25,000 -$50,000 – $100,000
Wire transfer "eligible to receive a tax deduction" for US taxpayers : Amigos of Costa Rica, Inc , Wells Fargo USA ASOCIACION DE SKATEPARK Y DEPORTE AL AIRE LIBRE DE GUIONES DE NOSARA, Emily@amigosofcostarica.org
All Supporters from $1 up to – $9,000
Wire transfer "eligible to receive a tax deduction" for US taxpayers : Amigos of Costa Rica, Inc , Wells Fargo USA In Costa Rica : ASOCIACION DE SKATEPARK Y DEPORTE AL AIRE LIBRE DE GUIONES DE NOSARA ,
Accounts in Banco de Costa Rica and in Banco Promerica
NFTs including skateboard deck Fundraising Goal – $200,000
To find out more about the NFT campaign, visit: https://rarible.com/nosara/items
Note that estimate values are for planning purposes only. Final construction budget breakdown will be subject to approved design and confirmed site conditions.
PROJECT WORK PLAN AND TIMELINE…
June 22

1.
Construction Mobilization

The design/build team will meet with the association of Nosara Skatepark to review the priorities for park construction and will plan out a detailed schedule for completion of key milestones within each phase of construction.

2.
Layout / Site Preparation

The construction team will layout all design grades, remove any existing sod, trees, etc. and prepare the site for grading and drainage.

September 22

3.
Grading & Drainage

The construction team will proceed with installation of the drainage system. Power including conduit for lighting and other site servicing will be roughed-in at this time. Base design grades will then be established.

October 22

4.
Fine Shaping / Banks & Transitions

Once the rough grades are established and the drainage is installed, the construction team will proceed with fine shaping of the park elements. The park construction team will then assess the weather forecast. If weather is favourable for pouring concrete, our team will proceed with installing the banks and transitions. All banks and transitions are poured in small, controlled panels to ensure proper shaping and finishing.

Week 1
Schedule
Task
Specific Objective
5.
Flat Slabs

Once all banks and panels are complete the construction team will prepare, form and pour the base slabs. These sections will require favorable weather as they are larger pours.

Week 4

6.
Ledges & keystone features

Upon completion of the banks, transitions and flat slabs, the construction team will

proceed with forming and pouring all ledges and keystone features.

Week 6

7.
Clean Up / Demobilization

Upon completion of all concrete work the construction team will remove construction debris, grade surrounding berms and complete all rough landscaping responsibilities.

Week 8

8.
Finishing Landscaping / Facility Grand Opening

Once all concrete is completed and the park is cleaned and ready for use, the construction team will work together with the owner to help coordinate all finishing landscaping installation.

New Line Skateparks committed to employing our full resources for completion of the project in a timely manner to maximize community use for the season. Construction of an average community scale park is expected to take 10 weeks from mobilization. It is our intention to work efficiently until project completion. Should severe weather alter our work program, we will adjust our schedule to ensure quality control.

Week 10