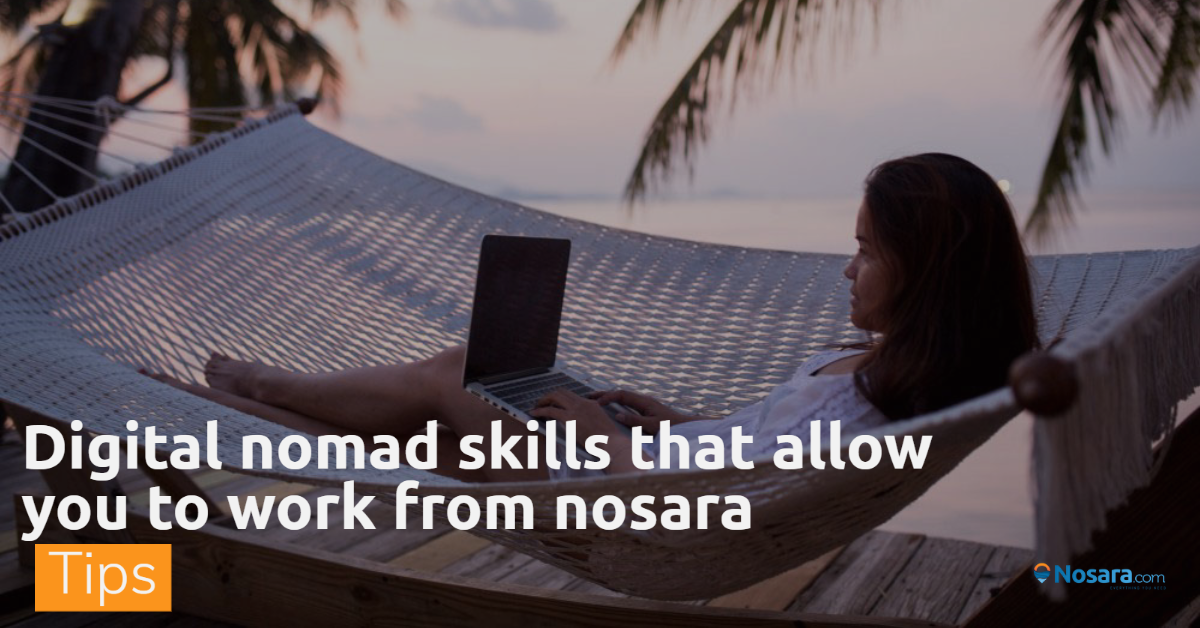 Looking for the best digital nomad skills to learn? In this post, we'll talk about the best skills to have in order to be a digital nomad.Digital nomads have inspired a lot of travelers to enter a dream nomadic lifestyle in which you can work and travel.
This peculiar approach comes with its fair share of complexities where you have to figure out new ways of earning a substantial income online so you can support yourself abroad.
With a little bit of prep work, planning, and honing of smart skills, it is absolutely possible to open up streams of online income to keep you afloat.
So, what are the money-making skills for digital nomads?
If you're wondering how to make money as a nomad, let's take a look at the top digital nomad jobs available. As long as you have the right tools and skillsets, you can offer your work and services from anywhere in the world, thanks to the Internet.
Although this list is not exhaustive, it will definitely get you a rough idea of what's available and what you could do. Keep reading to learn more about the jobs that allow you to live anywhere and the best skills for digital nomads.
Yes – the nomad lifestyle could be waiting for you!
Here are the 12 best jobs for digital nomads to keep up with life on the road.
1. Digital Marketing Skills
We live in the digital era where everything works around the Internet and social media. Businesses are struggling to keep up with the constant updates and social media changes.
2. Freelance Content Writing
The Internet runs on the concept of creating useful content by real people from every walk of life.
If you are interested in writing, then there are a myriad of avenues waiting just for you – copywriting, technical writing, academic writing, and ghostwriting to name just a few.
There are plenty of sites where you can write and get paid instantly.  It is one of the best skills for digital nomads.
3. Blogging
Blogging requires a ton of work, patience, and a never-give-up attitude to learn and grow every single day. But if done correctly, then you can just tap passive income flow continuously even if you are not working for a while.
Blogging requires mastery in a lot of related skills like search engine optimization, analysis, and research. Each of these acquired skills can cater to individual careers if need be.
By far, travel blogging seems to be the most common profile found among digital nomads.
If you are wondering if the travel blogging industry is saturated, you should know that you're going to have to find something that makes you different from the others, or opt for something a bit more niche.
I'd recommend you read about the pros and cons of blogging before you get started.
4. Creative Designing
If you are into logo designing or creative artistic illustrations, then you can monetize your skills by finding freelance work. Sites like Upwork, Freelancer and Fiverr are ideal places to sign up for selling your services.
Have a natural inclination towards technical designs?
There's always growing demand for web designers and app developers. Even if you are focusing on other work, acquiring the web designer skill will come in handy as eventually, you will need it for your own startup website and personal brand.
5. Graphic Design
Graphic designing is one job that is perfect for digital nomads because it can be done online without any location dependency.
If you are good at designing or are willing to learn the ropes, then you can rake in loads while working on the move. Work your way through available online courses and get comfortable honing your graphic design skills.  
6. Tutoring
You can always offer English or language lessons offline or via online tutoring. Many people from non-English speaking countries need help with their basic English skills.
All you need is a reliable internet connection, a laptop, and a couple of hours at hand. With online tutoring communities, Skype, and other tutoring platforms available,  you can start online teaching almost instantly without having to wait.
7. Write a Book or Create & Sell Online Courses
If you have ever thought of writing a book, then this is the time for it. Publish your book or e-book and sell it from online marketplaces like Amazon.
If you are knowledgeable and well versed in certain fields, then consider creating some online courses for people to buy and learn from you. Make your products digital so that you don't have to deal with packaging and delivery options.
8. Affiliate Marketing
Affiliate marketing has been around for ages and it is one of the straightforward ways of earning money online. You could either make use of a blog or a social media platform like Pinterest to promote and market sales products.
There are plenty of courses and resources available online which explain all the nitty-gritty of the affiliate marketing industry.  
9. Coaching and Consulting
Coaching and consulting can turn out to be lucrative businesses if you are able to address the most common pain points of a community. It could be running a business, juggling finance, relationships, or weight loss programs.
Find out that aspect where you are an expert at and start consulting and coaching clients who seek assistance.
10. Starting your own YouTube channel
Have you considered facing the camera recording your own shows? If you have a way with videos then starting a YouTube channel can be quite rewarding.
Focus on what you are passionate about and pan out helpful videos or how-to tutorials. It could be a craft you know well, travel tales, food around the world, or simply vlogs about the digital nomadic lifestyle with candid moments. The opportunities are endless.
11. Computer Programming
Are you a computer nerd who likes to meddle with codes? Businesses are realizing the emerging trends and many are willing to allocate talented people in remote locations even though they don't work in traditional time frames with fixed timetables.
Give it a go. The industry pays really well.
12. Virtual Assistance
If you are wondering how to be a digital nomad with no skills, you need to rethink the whole thing.  There is the stuff that you do on a daily basis that could earn you money:
Be a virtual assistant and provide administrative support to business owners and other clients. If you are skeptical to start any other type of freelancing work, then this could be the right one for you.
Even as a newbie, you can get hold of a decent VA job to get you moving.