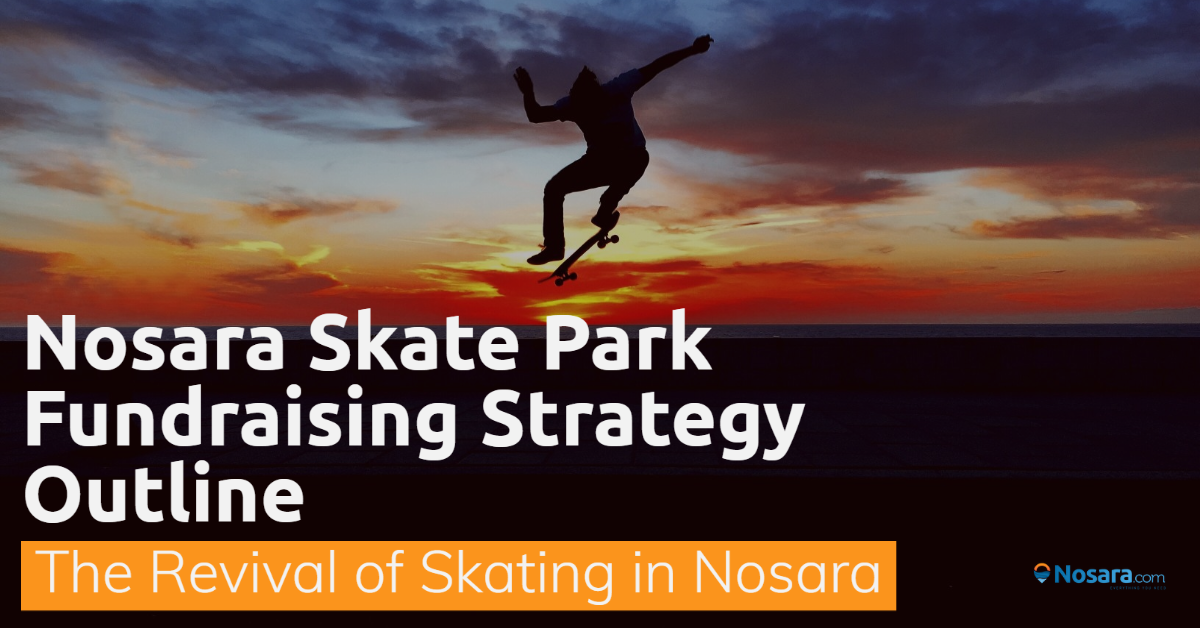 The Rise And Fall of Skating in Nosara
In 2014, Eskina Skate Park opened in Playa Guiones. The response was overwhelmingly positive, Eskina created a skating culture in a town where previously there had been none. After building a large following, Eskina skate park closed its doors to the public in 2018. Since then, multiple people have appealed to the owner for permission to ride, rent, and even buy the skatepark. Sadly, these appeals have been in vane. The skate park remains closed, leaving an entire local skateboarding community with nowhere to ride.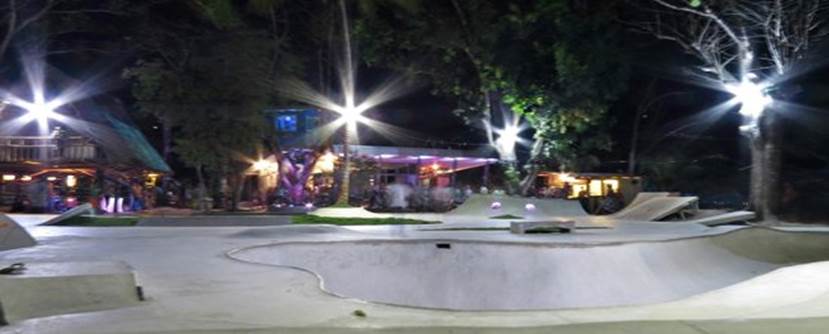 The Revival of Skating in Nosara
Skate Nosara is a proposed 12,000 sqft skateboarding park built off the main road on the substantial area of unused land behind Escape Nosara. The land owner is donating its usage, free of charge, at no rental cost, to build a world class, professionally designed and built skatepark. Entry to the skate park will be entirely FREE for children, locals, amateur and professional skaters  of Nosara.
All we have to do is raise the necessary funds to build it.  The estimated cost of turning this dream into a reality is $460,000.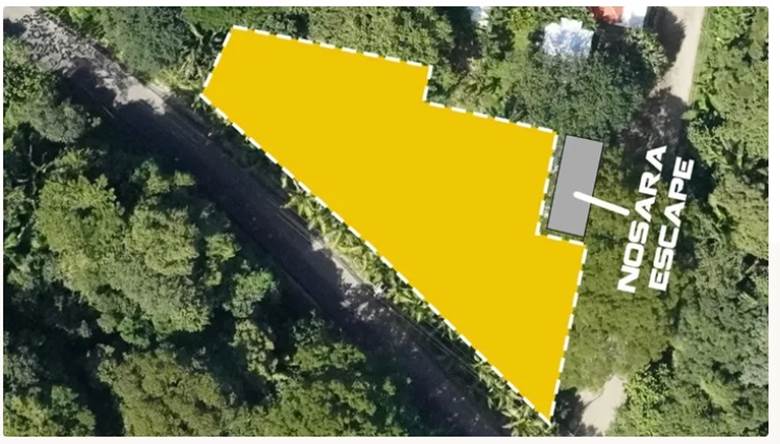 Fundraising Strategies and Goals
NFTs including skateboard deck: Fundraising Goal - $200,000
What is an NFT?
A non-fungible token (NFT) is a non-interchangeable unit of data stored on a blockchain, a form of digital ledger, that can be sold and traded. Types of NFT data units may be associated with digital files such as photos, videos, audio, and other forms of art. In the case of NOsara skate park, the NFT will be a one-of-a-kind skateboard design as seen below.

The NFT consists of 50 unique digital paintings applied to skateboard decks. These designs were created by Mael Victory and Max Viellard with the help of Fletcher Spanton,.
Additionally, 200 real decks have been printed with the 50 unique digital paintings. Half of these decks will be for decorative purposes. The other half will receive grip, trucks, and wheels. Those purchasing NFTs can choose between:
Receiving one printed deck for decorative purposes.
Offering one complete skateboard to a local kid.
To find out more about the NFT campaign, visit:  https://rarible.com/nosara/items
NFT skateboard deck cost
Each NFT skateboard deck will cost $1000 each. If we meet our goal of selling 200 NFTs, this will raise $200,000.
Where Will This Money Be Spent?
100% of NFT funds raised will go to the Nosara Skatepark Association.
50% of the money will go towards construction of the skatepark. 50% of the money will go towards the construction of 15 x 15m multi use activity areas in Nosara town, Esperanza, Santa Marta, Garza, and Delicias.
Go Fund MeCampaign: Fundraising Goal - $200,000.00 USD
To donate, visit https://www.gofundme.com/f/help-skate-nosara-become-a-reality-for-local-kids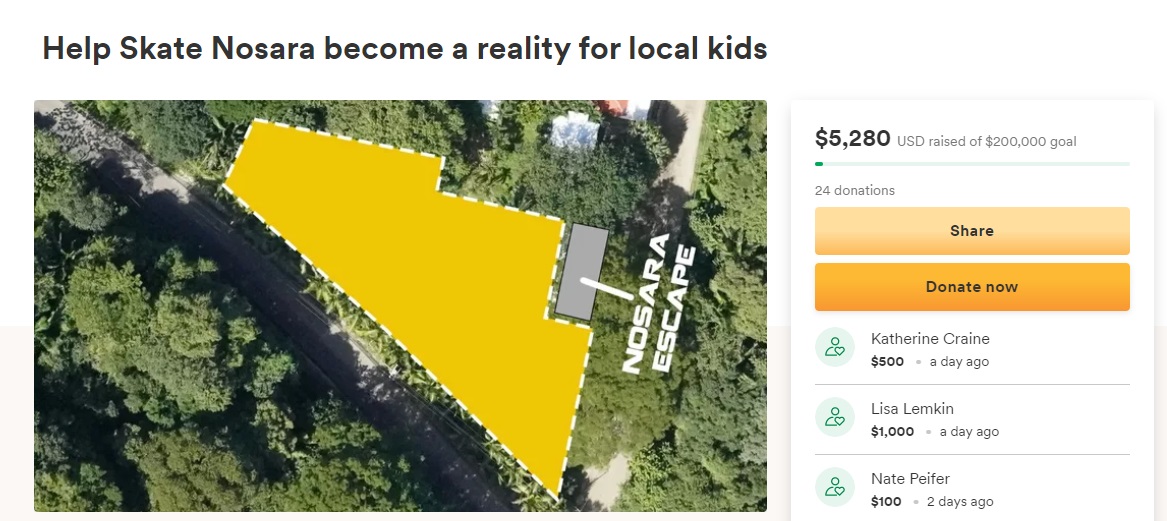 10% of funds raised via GoFundMe will go towards the aforementioned local projects in the outlying towns of Nosara,
Major Donors
We are fortunate to live in a town where affluent individuals enjoy the boardsport lifestyle, including skating. Already, we have received commitments of donations of up to $50,000.
When Will Construction Begin?
We aim for construction to begin in July 2022..
When will the Park Open?
We aim for the park to be skatable by December 2022.
What Will the Park Feature?
We have yet to finalize specifics in terms of features. We know that eighty percent of the park will be geared towards beginner and intermediate skaters. Twenty percent of the park will be geared towards advanced and pro-level skaters.
Who is Designing the Park?
We are utilizing New Line Skate parks, one of the best contractors in North America. For more info, check out https://www.newlineskateparks.com. Additionally, we have two professional skateboarders, Mackey Saturday and Mike Lopez, helping with the design.
Who is Building The Park?
Already, we have confirmation of contractors, architects, engineers working towards a design that remains on budget.
Can I make a Tax Deductible Donation?
You can process your donation through Amigos of Costa Rica, a Costa Rican Non-Profit that works closely with Nosara.. You can also use your DAF or PFF. If necessary. If guidance is needed, contact us.
How Else Can I Help?
Other local business owners have expressed their willingness to participate by donating local children's transportation to the skatepark. We also have participants ready to donate 100's of skateboards and protective gear.